The Gobbledegook Book is the kind of book that will be passed down generations of a family – timeless, joyous and heavy with memories.
The Gobbledegook Book: A Joy Cowley Anthology
Joy Cowley's favourite stories, poems and nonsense rhymes collected and reillustrated in a hardback gift volume for the family to treasure.
Illustrated by Giselle Clarkson
---

Description

Joy Cowley's wordplay and humour shine in this landmark collection of stories, rhymes, nonsense and poems.
The Gobbledegook Book collects favourites like 'Faster Faster' and less-known treasures alongside the much-loved classics 'Greedy Cat' and 'Nicketty-Nacketty Noo-Noo-Noo'.

The Gobbledegook Book is a perfect family read-aloud and one for early readers to snuggle up with.

---

Book Details

Country of Origin
New Zealand
Reader Age
2-5 year, 5-7 year, 6-8 year
Book Size
N/A
28 × 24 cm
ISBN
JoyCowleyAnthology
9781776572588

---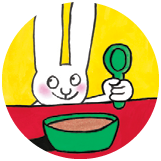 Subscribe to our newsletter/s
Hear from us about new books, guest recommendations, behind-the-scenes and competitions.