Giselle Clarkson is an illustrator from Wellington, New Zealand. She once drew a picture of some biscuits that was shared online so many times that they put her on TV. As well as illustrating children's books, Giselle is a regular contributor to the NZ School Journal. She writes a comic about children's books for The Sapling, and makes educational comics about important and exciting environmental topics. She loves to have adventures at sea and on remote islands best of all. Giselle has a degree in photography from the University of Canterbury in Christchurch.
Giselle Clarkson on illustrating The Gobbledegook Book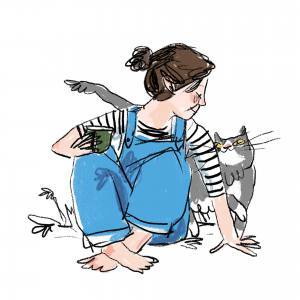 A self-portrait with beloved Smudge.
"There's a wee bit of him in all the Gobbledegook cats (especially Brave Cat, with the sausages)."