What a hilarious, gorgeous translation by Karena Kelly of this popular Gecko Press publication.
Paraweta
Gecko Press's cheekiest rabbit is now in te reo Māori!
Written by Stephanie Blake
Translated by Karena Kelly
---

Description

Once there was a little rabbit who could only say one thing… In the morninghis mother would say, 'Time to get up, my little rabbit!' He'd reply: 'Poo bum!'

At lunchtime his father would say, 'Eat your spinach, my little rabbit!' He'd reply: 'Poo bum!' One day, he meets a hungry wolf. Will the little rabbit learn his lesson once and for all?

---

Book Details

Country of Origin
France
Reader Age
0-2 year, 2-5 year, 5-7 year
Book Size
N/A
27.5 × 21 cm
ISBN
PooBumMaori
9781776572182

---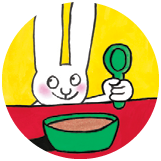 Subscribe to our newsletter/s
Hear from us about new books, guest recommendations, behind-the-scenes and competitions.