My favourite (and most eccentric) publishing house for children's books.
You can never go wrong with Gecko Press
I love Gecko Press … This is a shameless endorsement.
In typical Gecko Press fashion, Impossible Inventions is physically lovely, with paper you want to smush your cheeks against and colours you want to eat
One message shines from the Gecko list: children deserve quality.
It's such a Gecko book: gorgeous, surprising, filled with kindness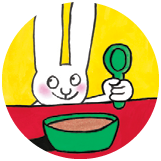 Subscribe to our newsletter/s
Hear from us about new books, guest recommendations, behind-the-scenes and competitions.