Super Rabbit
Another classic children's book in the best-selling series about Simon, a cheeky little rabbit who knows just what he wants.
Written by Stephanie Blake
Translated by Linda Burgess
---

Description

Once there was a little rabbit… "I'm not a LITTLE rabbit! I'm Super Rabbit!"

Simon is not afraid of anything. He's Super Rabbit! But one day when he goes out to save the world, he comes across a situation he wasn't expecting.

A children's book for ages 3-5

---

Book Details

Country of Origin
France
Reader Age
2-5 year
Book Size
27.5 × 21 cm
27.5 × 21 cm
ISBN
SuperRabbit
9781877579578

---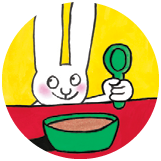 Subscribe to our newsletter/s
Hear from us about new books, guest recommendations, behind-the-scenes and competitions.