"These gentle stories reflect both the logic of the very youngest and the sort of everyday event that to a child are satisfying adventures."
Bibbit Jumps
Bibbit Jumps is a charming illustrated chapter book for emerging readers about an enthusiastic frog who sometimes misses the mark.
Written by Bei Lynn and translated by Helen Wang.
Ebook available wherever you buy your ebooks
---

Description

Bibbit is a little frog who sometimes forgets how to swim—but he's a jumping expert. He can jump very high, very far and in many different ways. But sometimes he feels nervous about what the day might bring—unlike his little sister, who is ready for adventure.

Bibbit Jumps is a charming illustrated chapter book, full of rhythm and resonance, from Bei Lynn, one of Taiwan's up-and-coming author–illustrators.

---

Book Details

Country of Origin
Taiwan
Reader Age
5-7 year
Book Size
N/A
N/A
N/A
ISBN
BibbitJumps
9781776572786
9781776572779

---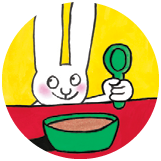 Subscribe to our newsletter/s
Hear from us about new books, guest recommendations, behind-the-scenes and competitions.