This book includes the classic child's retort: 'So what!' It will strike
a chord with children and parents everywhere."

I'm the Biggest!
A story about who's the biggest—and being a good brother—in the best-selling series about Simon, the cheeky rabbit who knows just what he wants.  A funny book for kids ages 3-5.
Written by Stephanie Blake
Translated by Linda Burgess
---

Description

Simon is annoyed. Casper has grown a lot: three centimetres! But Simon
is only one ridiculous centimetre taller than last time. "So what!" he says,
"I'm the biggest!"

The mischievous rabbit from Poo Bum is back!

A funny book for kids ages 3-5.

---

Book Details

Reader Age
2-5 year, 5-7 year
Book Size
N/A
27.5 × 21 cm
27.5 × 21 cm
ISBN
I'mtheBiggest
9781776572021
9781776572137

---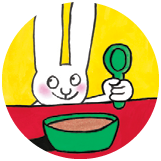 Subscribe to our newsletter/s
Hear from us about new books, guest recommendations, behind-the-scenes and competitions.