Children will spend hours poring over it... An activity atlas that is perfect to get lost in.
Around the World with Mouk
Mouk is off on a world tour! He learns a lot on his trip, sending postcards to his friends along the way. An optional sticker game is included.
---

Description

In Around the World with Mouk, Mouk is off on a world tour and he sends postcards back home to his friends about his trip. He learns a lot!

Hardback with a spongy cover and super-glossy, the book comes with a set of removable stickers.

Meet Mouk, a mellow little bear who takes his buddies by surprise when he sets off on an around-the-world adventure that will inspire kids to travel the world and discover different cultures. Bursting with colour and a zillion authentic details, Around the World with Mouk follows our loveable, laid-back hero as he travels through 11 vividly illustrated countries, meeting new friends and learning about new places. From every place he sends a postcard to his friends at home.

Children delight in discovering a world of realistic details on every page, and learn fun facts from the postcards. The front endpapers feature Mouk getting ready to leave and say goodbye to his friends, while the back endpapers show his return home and include extra anecdotes about his travels. And to make sure the travelling bear is never lost, readers and pre-readers can follow his journey across the map on the back of the book. An optional sticker game lets children learn more about each country in a fun, interactive way.

---

Book Details

Country of Origin
France
Reader Age
2-5 year, 5-7 year, 6-8 year
Book Size
29.5 × 29.5 cm
29.5 × 29.5 cm
ISBN
AroundtheWorldwithMouk
9871877467011

---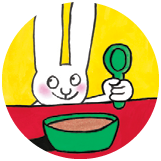 Subscribe to our newsletter/s
Hear from us about new books, guest recommendations, behind-the-scenes and competitions.