Pace, energy, superb comic illustrations and the hilariousness of dad going bald.
When Dad's Hair Took Off
A fast-paced, comical story for early readers, in which Dad's hair takes off through the open window to freedom!
One day, Dad's hair decided it was tired of being brushed and combed. It wanted a life of its own, to see the world. It took off.
Out of the bathroom, into the kitchen, and before you could say, "Hairsta la vista, baby!" it was gone.
Dad gave chase around the town. He spots his hair hiding in the lawn, on the road, at the zoo —it's amazing how many things look like hair. He gives up.
Dad tries to accept life without hair. Then the postcards arrive. The hair is on a round-the-world trip and Dad is still bald. Until one day the unbelievable happens and the hair comes back.
This is a fast-paced tour-de-force, a wonderfully absurd story packed with wordplay and full colour hilarious illustrations.
When Dad's Hair Took Off is a comical chapter book for early readers or for any child to enjoy reading aloud with a grownup who relates! A fun book to celebrate and share with Dad on Father's Day or any day.
Free colouring in activity sheet | Free postcard activity sheet | Read the first chapter
---

Book Details

Country of Origin
Germany
Reader Age
5-7 year, 6-8 year
Book Size
20.4 × 14.4 cm
20.4 × 14.4 cm
20.4 × 14.4 cm
ISBN
WhenDadsHairTookOff
WhenDadsHairTookOff
9781776575213

---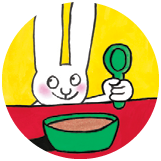 Subscribe to our newsletter/s
Hear from us about new books, guest recommendations, behind-the-scenes and competitions.