There's not a word, not a detail too many.
Everyone Walks Away
Everyone Walks Away
A beautiful, multi-layered children's book about loneliness, exclusion and belonging.
Written by Eva Lindström
Translated by Julia Marshall
---

Description

Frank feels lonely when everyone walks away. Tilly, Paul and Milan are having fun. Frank cries tears into a pan and then adds sugar, and cooks and stirs for hours. Frank has made jam, his very own recipe.
He will now invite the others for afternoon tea.
"The people are so small on the large spreads, the surroundings are diffuse, the colours melancholic. Even the objects are on their own. Leaves drop like tears. A gate, a fence, a cul-de-sac; all become barriers, excluding. There's not a word, not a detail too many" August Prize jury

---

Book Details

Country of Origin
Sweden
Reader Age
2-5 year, 5-7 year
Book Size
25 × 22.5 cm
25 × 22.5 cm
ISBN
EveryoneWalksAway
9781776571864

---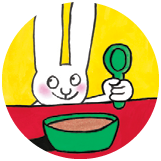 Subscribe to our newsletter/s
Hear from us about new books, guest recommendations, behind-the-scenes and competitions.