An explosion of color, light and life.
The Visitor
A story about friendship and shyness, full of light and colour, that plays out in a mini theatre.  A book for kids and all ages.
Written by Antje Damm
Translated by Sally-Ann Spencer
---

Description

Elise was frightened—of spiders, people, even trees. So she never went out, night or day.

One day a strange thing flies in through the window and lands at her feet. And then there comes a knock at the door. Elise has a visitor who will change everything.

This is a gentle, sympathetic story about a child who unwittingly brings light and colour—literally—into a lonely person's life.

A children's book for all ages.

---

Book Details

Country of Origin
Germany
Reader Age
2-5 year, 5-7 year
Book Size
N/A
25.7 × 20 cm
25.7 × 20 cm
ISBN
TheVisitor
9781776571895
9781776571888

---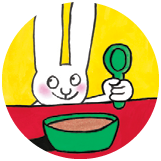 Subscribe to our newsletter/s
Hear from us about new books, guest recommendations, behind-the-scenes and competitions.