An elegantly understated portrait of patience and faith.
Waiting for Goliath
A warm and surprising picture book for children about waiting for a friend.
Written by Antje Damm
Translated by Sally-Ann Spencer
---

Description

Bear has been sitting and waiting since dawn.
"I'm waiting for Goliath," he tells everyone.
"Goliath is coming! He's my best friend."
At last, the bus pulls up. But no one gets out.
But Bear is sure: "He'll definitely show up. You'll see!"

Bear waits patiently for his friend. The robins fly to the south and the first snow falls. When Bear awakes from a long sleep, he hears a noise like a hand sliding slowly across paper. Goliath is coming! But Goliath's identity is a big surprise.

A children's book for ages 3 and up

---

Book Details

Country of Origin
Germany
Reader Age
0-2 year, 2-5 year
Book Size
N/A
N/A
26.6 × 21 cm
ISBN
WaitingforGoliath
9781776571420
9781776571413

---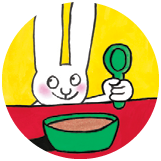 Subscribe to our newsletter/s
Hear from us about new books, guest recommendations, behind-the-scenes and competitions.