Yet another excellent addition to Bishop's contribution to strengthening Māori art and culture through children's books.
E Hoa
A simple board book in te reo Māori that shares how to talk about feelings through a friendship between a child and their dog.
Through the up-close expressive faces of a child and their dog, we learn the Māori words for a range of feelings.
Taku kurī pai – my good dog. He hātakēhi ia. My dog is happy … angry … excited … sad … shy … hopeful … Taku hoa pūmau, my faithful friend.
This simple board book is a starting point to talk about how we feel. Key words describe the many emotions a dog can go through in a short time, while the expressions on the faces of the people nearby convey a whole new raft of feelings as they respond and react. And so the story becomes one of friendship and how our friends make us feel.
This new board book is a multi-layered delight joining Mihi and Koro in Gavin Bishop's powerful series to share with the smallest children. There is also an English-language version available here.
---

Book Details

Country of Origin
New Zealand
Reader Age
0-2 year
Book Size
18.5 × 18.5 cm
18.5 × 18.5 cm
18.5 × 18.5 cm
ISBN
EHoa
9781776574681
EHoa

---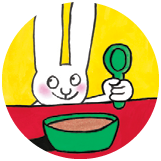 Subscribe to our newsletter/s
Hear from us about new books, guest recommendations, behind-the-scenes and competitions.