Once again, Nilsson delivers a rare gem of a book
Detective Gordon: A Complicated Case
A warm and funny story from Detective Gordon's forest about doing the right thing—and eating little cakes.
Written by Ulf Nilsson and illustrated by Gitte Spee
Translated by Julia Marshall
Available as an ebook wherever you buy your ebooks
---

Description

Something is going on in the forest. The animals are troubled. But no one dares make a statement to the police. Detective Gordon and his assistant Buffy must investigate!

It is a complicated case. The two police officers split the workload: Buffy questions the suspects, while Gordon stays in bed to think. Who is the culprit?

---

Book Details

Country of Origin
Sweden
Reader Age
6-8 year, 8-12 year
Book Size
21 × 14.8 cm
21 × 14.8 cm
ISBN
DetectiveGordonAComplicatedCase
9781776570652

---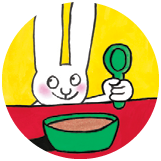 Subscribe to our newsletter/s
Hear from us about new books, guest recommendations, behind-the-scenes and competitions.