By Robyn Fausett, CEO at Nest Consulting
Robyn Fausett is the CEO at Nest Consulting—an Aotearoa New Zealand provider of puberty, body image, sexuality & relationship education. Robyn is also a published author, a nurse and a Mum. These books are available from all good bookstores.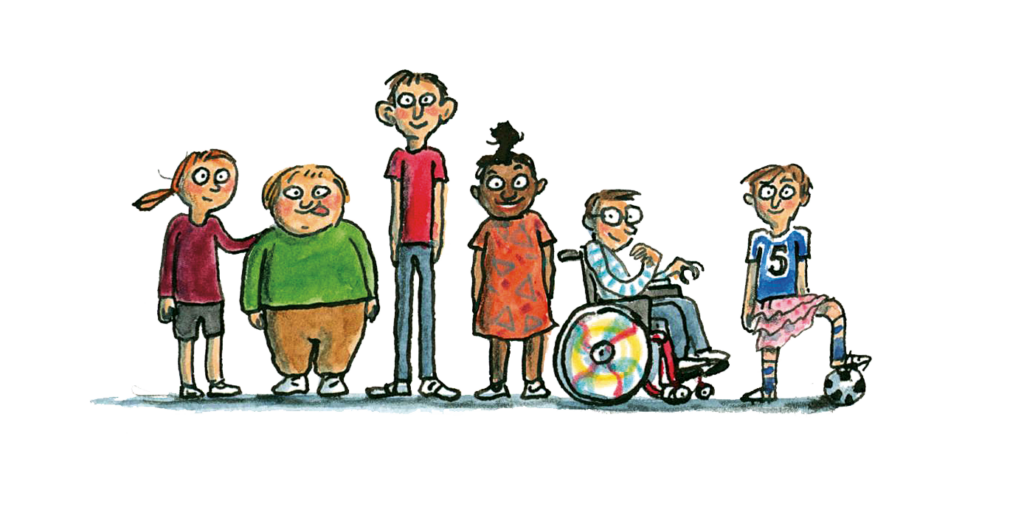 Here follows a list of books by some of my favourite authors for both kids and parents who are navigating the wonderful world of puberty!
Hair in Funny Places by Babette Cole
This book has been around a long time but there's a reason for that! It's a picture book that's light-hearted and fun with great illustrations. It doesn't go into any real depth about hormones etc however, it is a good introduction to our younger ones on the topic of pubertal change.
The Care and Keeping of You 1 & 2 by Cara Natterson (American Girl)
Fairly 'conservative' and gentle, Cara Natterson's books include a two-part series, The Care and Keeping of You 1 & 2, focusing on the female changes. She also has a book detailing male changes, Guy Stuff, all with additional information including hygiene, body image and healthy eating advice.
What's Going on Down There?: A Boy's Guide to Growing Up by Karen Gravelle
Recently revised with up to date info, alongside the amusing and informative illustrations is What's Going on Down There? A boys guide to growing up. Alongside loads of information about the changes happening to the body, there are now sections on body image, sexual harassment and consent, and using social media safely.
Celebrate Your Body (and Its Changes, Too!): The Ultimate Puberty Book for Girls by Sonya Renee Taylor
This is a body positive book covering not only the physical changes relating to puberty and self-care, but also the sometimes challenging social aspects in an incredibly powerful and empowering way.
Puberty Is Gross But Also Really Awesome by Gina Loveless
A really inclusive puberty guide, Puberty Is Gross But Also Really Awesome is filled with jokes, illustrations, scientific facts, interesting studies and tips for managing the great and not-so-great parts of puberty. An up-to-date book covering everything from pimples & body changes to the celebration of diversity (the book uses inclusive language throughout) to looking after your mental health.
Cycling to Grandma's House by Erin-Claire Barrow and Jac Torres-Gomez
This is a beautifully written book about Luna's journey to discover the fascinating and insightful stories about others' experiences of their first period. A wonderful way to gain information about different cultural rituals and rich traditions as an introduction to menstruation.
Are You There, God? It's Me, Margaret by Judy Bloom
How could we not mention Are You There, God? It's Me, Margaret? Although fiction, this book informed many from previous generations about puberty and continues to stand the test of time. With the film hitting the movies in 2023, there are many of us fondly recalling "I must, I must increase my bust". The coming of age for boys, Then Again, Maybe I Won't, is also still popular.
Love Your Body by Jessica Sanders
Puberty can be a tricky time to navigate an ongoing healthy relationship with your body. Love Your Body (with a focus on girls and women) celebrates all body types, has a focus on self-love, self-care and acceptance, with the message that you are uniquely you, embracing our perfectly imperfect self.
Be Your Own Man is another of Jessica Sanders' offerings. It encourages young boys to open their eyes on their understanding of masculinity, supporting them to feel free and proud to be who they truly are.
The Kids Will Be All Right: A guide to raising teens in a complex world by Robyn Fausett & Molly Fausett
And finally, something for those parenting tweens and teens throughout puberty – of course we have to promote our book! The Kids Will Be All Right: A guide to raising teens in a complex world provides up-to-date, Australasian, evidence-based information, insights, conversation starters and resources to help parents and whānau navigate and untangle hot topics such as friendships and frenemies; bullying; cyber safety; drinking, vaping and risk-taking behaviour; self-esteem and body image; puberty, sexuality; consent and safe relationships; and pornography. Co-written by myself and my daughter Molly, there is a parent's and a teen's perspective throughout. We have aimed to write an insightful, accessible and empathetic guide that empowers parents and caregivers to relate to and communicate effectively with their tween/teen.
---
Gecko Press books about puberty and bodies
These four Gecko Press books about puberty and bodies are available from our website or all good bookstores.
Humor combines with accurate, digestible information in this honest comic reference for children and early teens who want to understand and feel at home with their own bodies.
"A whimsical, enlightening, and empowering volume to set readers on the path toward self-acceptance and body positivity." Kirkus Reviews, starred
Age 8+
Everything children really want to know about sexuality and bodies—and aren't afraid to ask. This book collects questions asked by boys and girls and answers them directly: the questions are real, the answers honest and the images funny.
"One of the best books on the topics of bodies, sex, and emotions that I've encountered." Travis Jonkers, School Library Journal
Age 6 or 8+
A funny, forthright non-fiction picture book about how babies are made and different ways to be a family.
"…it does more than merely provide the facts; it's also a celebration of life and of difference…a great starting place for conversations about birth, sex, and families." Red Reading Hub
Age 4 or 5+
All the most fascinating and astonishing facts about animal reproduction, from seduction methods and anatomy to family life and animal babies, in a compendium for the whole family.
"What she [von der Gathen] does do is to demonstrate the wonder of species reproduction as well as her respect for her audience with frankness and good humor. They will find it irresistible in tone and content." Kirkus Reviews, starred
Age 8+