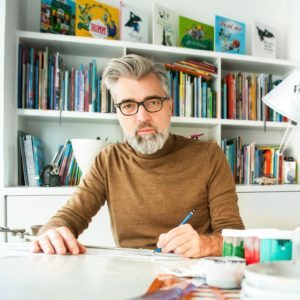 Leo Timmers is an award-winning illustrator from Belgium.
Gecko Press has published many books by Leo Timmers: Who's Driving?, Monkey on the Run, Gus's Garage, and Franky.
The latest book by Leo Timmers we are publishing this March is Where Is the Dragon?—a joyful rhyming tale of mistaken 'dragon' identity.
Leo took over the Gecko Press Instagram account on Wednesday 17th February to share his creative process to create this latest masterpiece of a picture book.
Here is what Leo posted on our Instagram when he took over our account for the day:
---
I'll share some of the work that went into making the book, from first dummy and designing the characters to the execution of the final art and cover.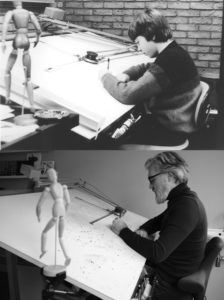 All my books where made on this drawing table that my father bought me when I was about 12 years old.
As a child I drew comic strips and my father thought I needed a professional table to do that! One of his best investments, so it seems.
For almost 40 years now, these two square metres have become the place where it all happens. It's a machine that takes me to imaginary places.
I never get tired filling a new blank sheet of paper. It's my home.
Dummies for Where Is the Dragon?
Dummies are an indispensable part of making a picture book.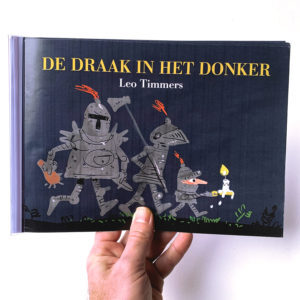 I really like this part of the process. It's exciting to put all the sketched pages together and see how the story works when flipping through them.
Usually I start sketching on paper but this book started on the computer. So I printed the pages, made the dummy, showed it to my publisher, and off we were!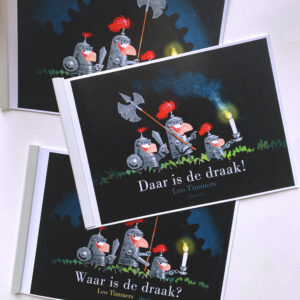 The storyline didn't change much, except for the ending. The original ending was a bit too violent. I had three different ideas for the ending, so I made three different dummies with different endings. We compared, discussed and finally decided on the one that worked best.
You have to stay open to new ideas until the very end.
Dummies help, because they force you to reflect and compare with previous versions.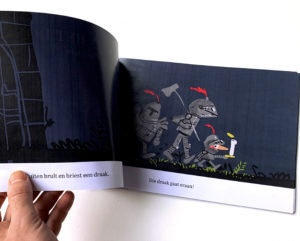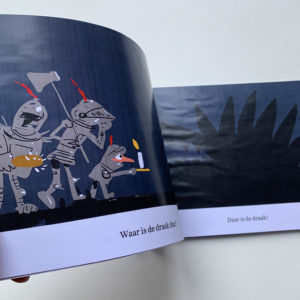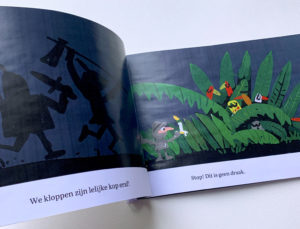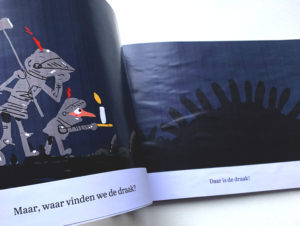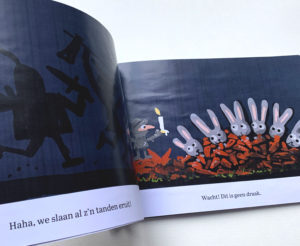 Ultimately, the question is always: what am I trying to say? What is this book about?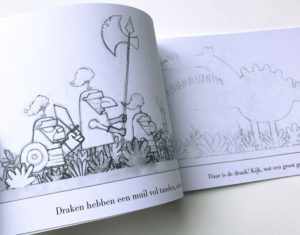 Only at the very end I figured out what the story in Where Is the Dragon? was about: fear is our worst enemy.
And then I knew what the last image had to be.
Creating the characters for Where Is the Dragon?
Finding the principal characters is always a challenge for me. They have to be just right.
I usually draw animals, so going back to humans for this book was extra challenging!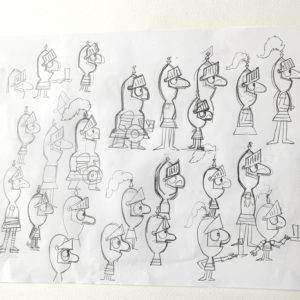 I only knew this much: there must be a heavy one, a taller one, and a short one.
My first idea was to hide the big ones in their helmets and armour, and only show the face of the small knight.
I finally decided to show all their faces, but the helmet hides most of it, so we don't see any emotion.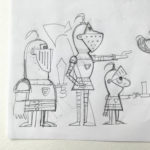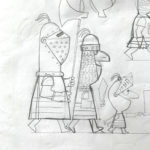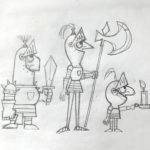 This more 'deadpan' approach makes their adventure even more funny, I think.
I made innumerable sketches only to find the right shape of their helmets, noses, and armour.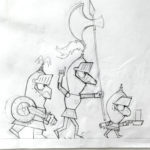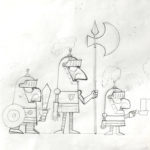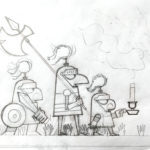 As usual, it turned out that less is more…
Playing with colour for Where Is the Dragon?
I always take time out to do colour tests. Not only to find the colour palette, but also to test grounds and textures.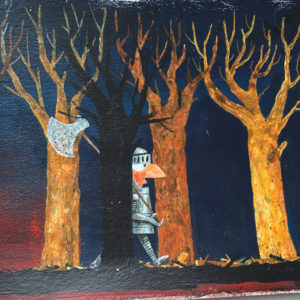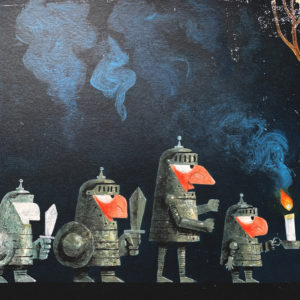 The challenge for this book was to let everything lit by the candle look bright and radiant.
After many tests I applied a white ground for everything in the light and then subsequently used transparent paint. The whiteness of the ground shines and makes it "shine".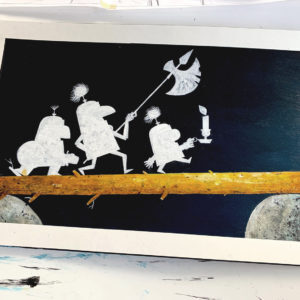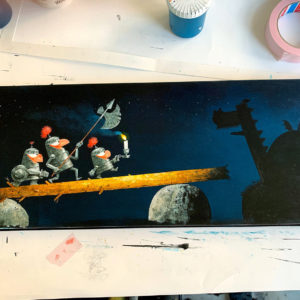 To contrast I wanted everything in the dark to be flat pitch black with no nuance. I've never done something like this before, but I think it works.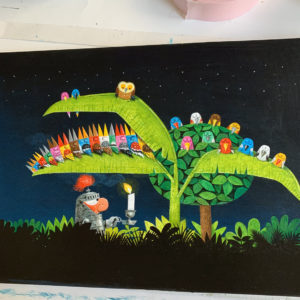 Designing the cover for Where Is the Dragon?
I feel a bit ashamed sharing my sketches for the cover image. I tend to just try everything that comes to mind.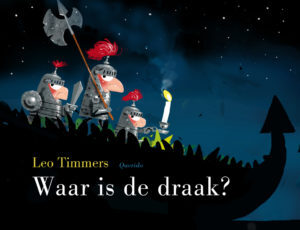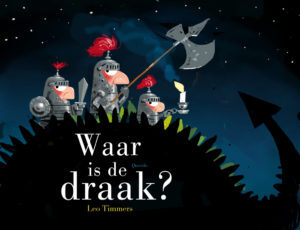 Finding the right combination between the dragon and knights was key.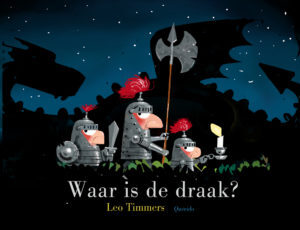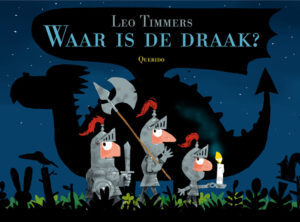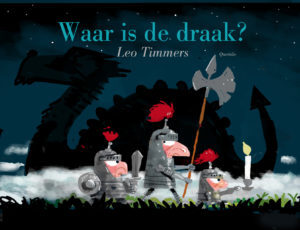 The idea to use one of the silhouettes from in the book, strangely enough, came very late in the process.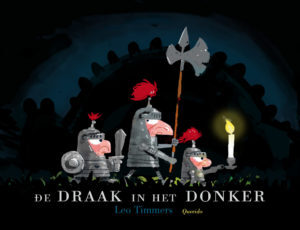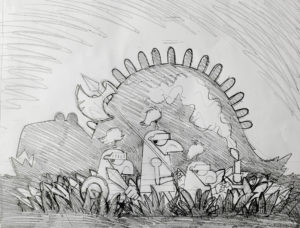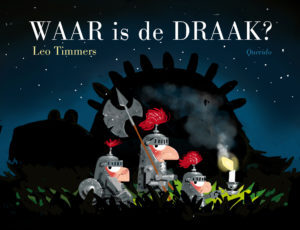 Now it looks so obvious—which is always the goal—but boy, the road to obviousness can be very long!
---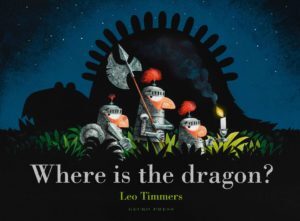 Where Is the Dragon? is the latest picture book from award-winning Leo Timmers about three silly knights and a clever dragon.
It will be available worldwide in English from 1st March 2021 wherever you buy or consume your books and on our website.
---
Follow Gecko Press on Instagram @geckopress for more illustration takeovers.
Want to hear more from Gecko Press? Every month we send out a newsletter with all of our latest blog articles, activity sheets, and sometimes a competition too! Sign up to our mailing list here.