Clearly, one animal's clutter is another pig's livelihood in this buoyant, rhyming tale.
Gus's Garage
Leo Timmers at his best: effortlessly simple text, intricately detailed illustrations, and vehicles galore.
Translated by James Brown
Available as an ebook wherever you buy your ebooks
---

Description

In Gus's Garage, one by one Gus's friends bring him their vehicles. Gus solves their troubles with ingenious solutions—a cooling system made with a fridge that doubles as ice-cream machine, a burst of speed from a rocket blaster.

Soon the workshop is almost empty, but the last scraps might be just enough to solve Gus's own problem at the end of a long day.

A children's picture book for ages 2 and up.

---

Book Details

Country of Origin
Belgium
Reader Age
5-7 year
Book Size
24.5 × 26.5 cm
24.5 × 26.5 cm
24.5 × 26.5 cm
ISBN
Gus8217sGarage
9781776570935
9781776570928

---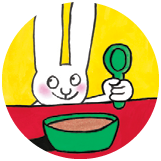 Subscribe to our newsletter/s
Hear from us about new books, guest recommendations, behind-the-scenes and competitions.