Gapaillard's detailed black-ink illustrations perfectly encapsulate the story's blend of
horror and humor and call to mind Maurice Sendak's Wild Things.
The Yark
A very funny and cheerfully subversive children's chapter book about a monster who eats children-until one day he makes a friend.
New York Public Library, Best Books for Kids 2018
Written by Bertrand Santini and illustrated by Laurent Gapaillard
Translated by Antony Shugaar
Available as an ebook wherever you buy your ebooks
---

Description

The Yark loves children…with the love of a gourmand! This hairy monster dreams of child buffets—ham of boy, orphan gratin, schoolchild purée, breaded babies, girl rillettes. But he has a problem: his delicate stomach can only tolerate nice children; liars give him heartburn, savages spoil his teeth. There are not enough good, edible children around to keep him from starvation.

Then the Yark does find delicious, sweet Madeleine. Will he gobble her up?

Or will she survive long enough to change his life?

---

Book Details

Country of Origin
France
Reader Age
6-8 year, 8-12 year
Book Size
240 × 144 cm
24 × 14.4 cm
ISBN
TheYark
9781776571727

---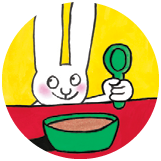 Subscribe to our newsletter/s
Hear from us about new books, guest recommendations, behind-the-scenes and competitions.