More delightful illustrations, comedic writing and clever appeal for young children.
I Don't Want to Go to School
Simon—the mischievous rabbit from Poo Bum—is back!
Written by Stephanie Blake
Translated by Linda Burgess
---

Description

Once upon a time, there was a mischievous little rabbit. Maybe you know him. When his mother said: 'Tomorrow is your first day of school, little rabbit.'  he replied: 'I'm not going!'

A books for kids ages 3-5

---

Book Details

Country of Origin
France
Reader Age
2-5 year, 5-7 year
Book Size
28 × 22 cm
28 × 22 cm
28 × 22 cm
ISBN
IDontWanttoGotoSchool
9781877579080
9781877579042

---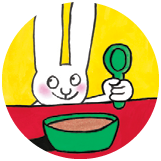 Subscribe to our newsletter/s
Hear from us about new books, guest recommendations, behind-the-scenes and competitions.