Stephanie Blake captures toddler body language brilliantly in these illustrations—Simon's truculence, confidence and frailty all jump from the page.
Rachel Lawson, Publisher
Nooo! Not the Dentist!
A funny picture book to help ease toddler fears about visiting the dentist. From the author of the international bestselling picture book Poo Bum, as seen on Netflix.
Poo Bum is children's favourite cheeky rabbit! This time Simon returns in Nooo! Not the Dentist! with his cheeky humour and favourite catchphrase to help young children approach any daunting new experience.
Simon gets a sore tooth so needs to take his first trip to the dentist. The night before the appointment, Simon's friend Ferdinand makes the most of the chance to show he knows more. Ferdinand uses his full imagination to describe the graphic horrors of the dentist's chair.
"I will NEVER go to the dentist!" yells Simon.
But his mother takes no notice. When Simon is eventually persuaded onto the dentist chair, insisting his name is "Poo Bum", he finds a remarkably patient dentist and an experience he wasn't expecting.
And now he can get on the phone to Ferdinand to explain it doesn't hurt a bit—not if you're a Super Rabbit, anyway.
The Simon picture book series is intelligent, funny and adored by toddlers, preschoolers and school-aged children.
Perfect to read aloud and giggle together as a family or for reluctant readers who will enjoy the bold and simple text and cheeky humour.
"Likely to stop even non-bookish kids in their tracks" The Guardian, The Best Picture books for Children.
Stephanie Blake is the author and illustrator of the hugely successful Simon series and dozens of highly successful books in France, many of them children's favourites.
Translated from the French edition by Linda Burgess.
---

Book Details

Country of Origin
France
Reader Age
2-5 year
Book Size
27.5 × 21 cm
27.5 × 21 cm
27.5 × 21 cm
ISBN
NoooNottheDentist
9781776575312
NoooNottheDentist

---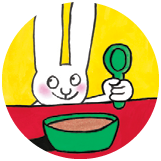 Subscribe to our newsletter/s
Hear from us about new books, guest recommendations, behind-the-scenes and competitions.