I get asked to read again and again. That's the sign of a really great book!
I Want Spaghetti!
Once there was a little rabbit who only wanted to eat one thing…SPAGHETTI!
Written by Stephanie Blake
Translated by Linda Burgess
---

Description

From world-famous Stephanie Blake (Poo Bum) comes another picture book about the cheeky little rabbit. This one is perfect for toddlers who might recognise themselves in Simon, the fussy eater.

---

Book Details

Country of Origin
France
Reader Age
2-5 year
Book Size
28 × 22 cm
28 × 22 cm
28 × 22 cm
ISBN
IWantSpaghetti
9781927271926
9781927271919

---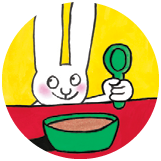 Subscribe to our newsletter/s
Hear from us about new books, guest recommendations, behind-the-scenes and competitions.