Bold, simple, cartoony, and comical
Wooolf!
A twist on the classic cry wolf story in the best-selling series about Simon, the cheeky rabbit, who always gets what he wants.
Once there was a little rabbit who did only what he wanted.
When his mother asked him to tidy his room he cried, "Wooolf! The wolf is coming!" and, when she ran away, he did whatever he wanted.
One day he did a wee where he wanted, and the wolf came to get him. "Wooolf!" he cried, but his mother didn't fall for that.
The wolf got him!
It was just Simon's father in a wolf mask. Simon promised never to cry wolf again. But when his mother opened the cupboard in the morning, a wolf cried "Awwoooo!"
A funny new book with a twist ending in the worldwide bestselling series about Simon the cheeky rabbit.
Translated by Linda Burgess
---

Book Details

Country of Origin
France
Reader Age
2-5 year
Book Size
27.5 × 21 cm
27.5 × 21 cm
ISBN
Wooolf
9781776574834

---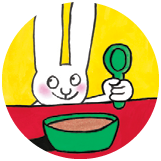 Subscribe to our newsletter/s
Hear from us about new books, guest recommendations, behind-the-scenes and competitions.