The Big Bad Wolf really gets his comeuppance in this delightful and fresh retelling, a worthy addition to the fractured fairy tale canon.
I Am So Clever
The big bad wolf is back, all dressed up in Grandma's nightie—but it's not having quite the effect he was hoping for.
Written by Mario Ramos
Translated by Linda Burgess
---

Description

One glorious day the wolf meets Red Riding Hood strolling through the woods. She looks a clever girl, but the wolf knows who is the cleverest. He has a plan to outwit her.

But this little girl is not so easily duped. And the wolf finds unexpected hazards in wearing a frilly petticoat in the deep dark woods.

---

Book Details

Country of Origin
Belgium
Reader Age
5-7 year
Book Size
N/A
26 × 20 cm
26 × 20 cm
ISBN
IAmSoCloever
9781776572489
9781776572496

---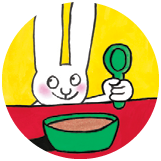 Subscribe to our newsletter/s
Hear from us about new books, guest recommendations, behind-the-scenes and competitions.