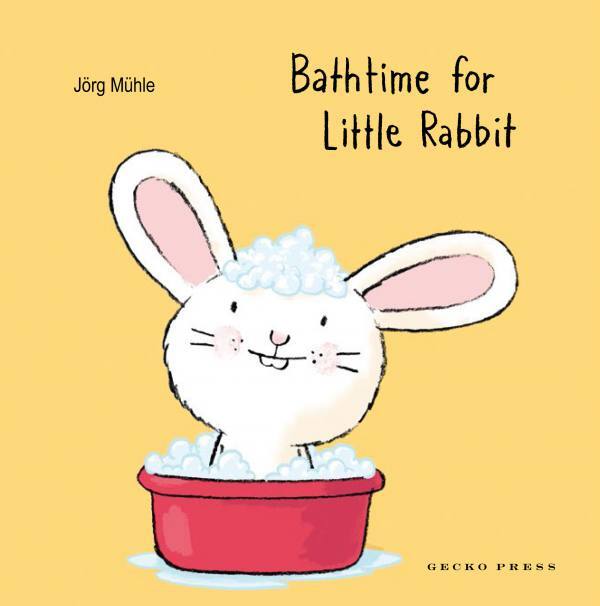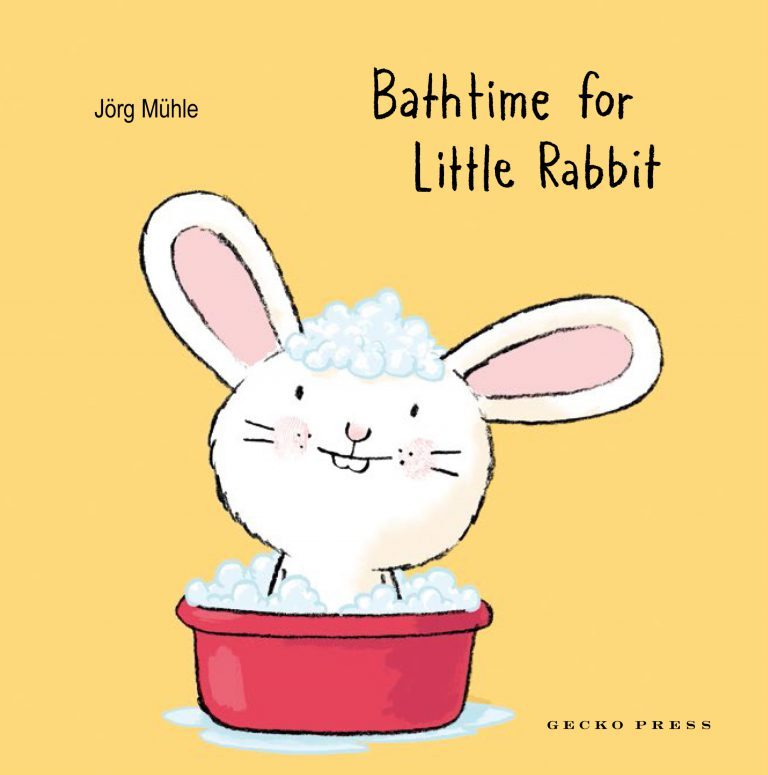 This funny, sweet, reassuring and empowering little board book about bathtime is perfection.
Bathtime for Little Rabbit
A perfectly simple interactive board book for babies that lets the child take charge of bathtime.
Written by Jörg Mühle
Translated by Catherine Chidgey
---

Description

From the author of the worldwide bestseller Tickle My Ears, comes an award-winning, interactive boardbook about bathtime. 

Who enjoys having their ears washed? Little Rabbit doesn't like the idea, but it turns out to be not so bad after all. But he does need your young reader's help. When the blow-dryer breaks, we must blow his ears dry. Wfffff! Keep blowing! Now wrap him in the towel and bathtime is over. Squeaky clean, Little Rabbit!

Jörg Mühle has created another sweet and simple bunny boardbook that invites children to take charge of bathtime with fun activities on every page. Children can help turn on the shower, cover Little Rabbit's eyes, wipe the water off his nose. Fun for everyone: babies and toddlers, parents and bunnies!

Designed to be read aloud, this tried-and-true, surprising book will get young children excited about bathtime. Teaching toddlers and preschoolers about bathtime routines, it also makes a perfect baby shower or infant birthday gift. Adults never tire of their child's enthusiastic washing and wfffing!

Jörg Mühle was born 1973 in Frankfurt am Main and studied at the Offenbach School of Design and the École Nationale Supérieure des Arts Décoratifs in Paris. Today, he lives in Frankfurt where he works as a freelance illustrator for book publishers, magazines and newspapers.

Praise for Bathtime For Little Rabbit

"A simple and thoroughly 'kid friendly' delight" — Midwest Book Review

"Gives toddlers a sense of power and control over their lives they perhaps don't often experience at that age. This funny, sweet, reassuring and empowering little board book about bathtime is perfection." — Playing By the Book UK

"You simply will not be able to resist giving this adorably toothy rabbit a bath, even if he isn't too keen on the idea at first." — Readings Bookstores Australia

---

Book Details

Reader Age
0-2 year
Book Size
17 × 17 cm
17 × 17 cm
ISBN
BathtimeforLittleRabbit
9781776571376

---

Do you love curiously good books for children?
Join our newsletter
Be first to discover new books, receive our latest blog articles, and enter exclusive competitions