This is gold and will have that baby in your lap making those wide-eyed "ooh" faces, as synapses fire happily in their brain.
Aleph
A funky large-format first book for babies of words and pictures. Basic and familiar shapes move on to a wider world of story and wonder.  A wordless picture book.
Written by Janik Coat
---

Description

Aleph is the first letter of the Hebrew alphabet—or maybe a nickname for a toy elephant.

Through powerful graphic images, contrasting colours and a thoughtful progression, Aleph moves from basic shapes and familiar objects to a wider world, full of story, character and wonder.

Janik Coat's unforgettable illustrations are perfect for sharing with babies—big, simple images with instant appeal.

The perfect first book for babies

---

Book Details

Country of Origin
France
Reader Age
0-2 year, 2-5 year
Book Size
N/A
25 × 26 cm
ISBN
Aleph
9781776572052

---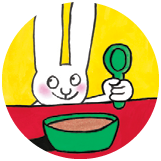 Subscribe to our newsletter/s
Hear from us about new books, guest recommendations, behind-the-scenes and competitions.