A Perfect Wonderful Day with Friends
Happy and healthy category finalist, Teach Early Years Awards 2022
This big-hearted picture book captures the warmth and fun of a spontaneous summer's day with friends, where one lovely activity leads to another until they all go back home to bake a cake (two cakes!) to finish.
Raccoon decides to bake an apple cake. But he has no eggs, so visits his friend Fox, who needs a ladder to mend the roof. Badger will have one, but he needs help too, so they set off to find Bear. They stroll through meadows, meet up with Crow, nibble blackberries and find Bear fishing at the river. Soon the five friends are having the best day out—the sun shining on their fur, fishing, swimming, picnic and finally home to bake the cake—two cakes, because bears have big appetites.
A Perfect Wonderful Day with Friends is a picture book to instantly capture the heart. Laconic narration, funny dialogue and exquisite illustrations tell the story of a carefree childhood day.
Philip Waechter is one of Germany's leading children's author/illustrators with a beautifully classic illustration style.
Activity sheet | Author Q&A | Look inside video
Translated by Melody Shaw
Ebook available wherever you buy your ebooks
---

Book Details

Country of Origin
Germany
Reader Age
2-5 year
Book Size
23.5 × 26.5 cm
23.5 × 26.5 cm
23.5 × 26.5 cm
ISBN
PerfectWonderfulDaywithFriends
9781776574667
9781776574674

---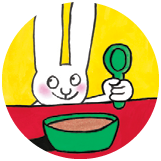 Subscribe to our newsletter/s
Hear from us about new books, guest recommendations, behind-the-scenes and competitions.