Good friends and a how-to-manual on knitting warm hearts.
Otto Goes North
A cosy story about friendship, travel and knitting.
Written by Ulrika Kestere
Translated by Julia Marshall
Available as an ebook wherever you buy your ebooks
---

Description

Far up in the north is a blueberry-blue house with a grass roof, where Lisa and Nils live. One day a tourist arrives: Otto has cycled for months, maybe years, to visit his friends.

Otto wants to do a spectacular painting of the northern lights to remember his visit, but he is from a hot country and it is very cold here. He can't paint for shivering so hard.

Lisa and Nils are surprised—Otto has a fur coat just like them! They didn't know there was a difference between fur and fur.

His friends decide to knit him a jumper.

---

Book Details

Country of Origin
Sweden
Reader Age
5-7 year
Book Size
28 × 21.5 cm
28 × 21.5 cm
28 × 21.5 cm
ISBN
ottogoesnorth
9781776572427
9781776572410

---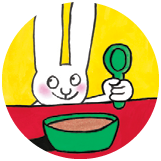 Subscribe to our newsletter/s
Hear from us about new books, guest recommendations, behind-the-scenes and competitions.