All publishers become used to working with a sort of temporal displacement. Books take at least six months to get from finished manuscript to book and much longer to plan and promote. Books from our current and future publishing lists occupy our attention space. This is particularly so for Gecko Press, where we are currently choosing for 2023 and 2024, presenting 2022 books to our sales and marketing partners, talking with bookstores and readers about our new 2021 releases—and enthusiastically reminding readers of established favourites! It's a challenge to know what year we're in on any given day.
With the Gecko Press office dotted with piles of samples from Frankfurt book fair, contracts for books publishing the year after next, reprint plans looking two years ahead, artwork and title decisions for next summer's releases … we're succumbing to the time slip to share four books coming in 2022 that we're working on now.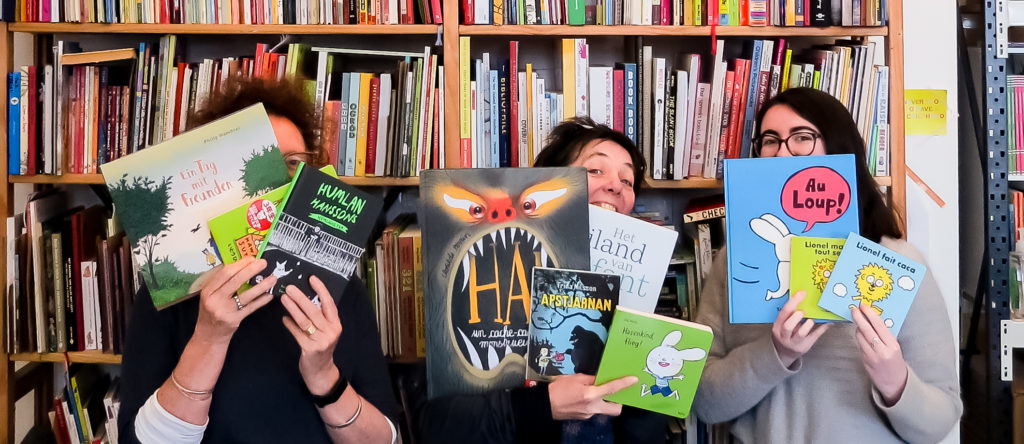 ---
Elephant Island by Leo Timmers, released March 2022
Don't you think that Arnold might possibly be the most stylish sailor you've ever seen? But he's shipwrecked on a tiny rock, all alone at sea and not even his friends can save him. Luckily, picture book author Leo Timmers knows how to build the most magnificent island where this nautical elephant and his friends can live together in the middle of the ocean—Elephant Island is full of contraptions and levers and pulleys, even a teeny wafflemaker, a suspended hook-a-duck game and a bicycle-powered ferris wheel. They've got everything they need.
If like me you take pleasure in building meccano sets or from creating a really great marble run, then you'll love finding tiny details in Leo's illustrations on every page. Arnold's story is one of creativity and community and Elephant Island will be sure to have us all dreaming about life on the ocean this summer.
—Sarah
A Perfect Wonderful Day with Friends by Philip Waechter, released in June 2022
We first read this book on a Friday morning in June, when the PDF arrived in Julia's inbox from the publisher of Philip Waechter, an author we love. Rachel and I did a rough translation of the German as we read it aloud (with Julia providing treats), and all three of us were struck by the illustrations that showcase the melting warmth of summer, and the sparse humour and candor of the text.
It is a rare occasion where we immediately know that we want to publish a book, but this was one. A Perfect Wonderful Day with Friends encapsulates the joyous spontaneity of a summer's day, and reminds me of childhood days where the end of the day couldn't come slowly enough, and each moment felt like its own perfect world.
Free Kid to Good Home by Hiroshi Ito, released July 2022
Free Kid to Good Home is about a child who decides to look for a different family when her new potato-faced younger brother appears. No one wants her, until at last a family appears looking for the perfect older sister for their new baby. It has few words, and the drawings have few lines, yet it brims with character and the humour of a moment we might all recognise.
It was recommended by Yurika, our agent in Japan, for many years, as being a Gecko Press sort of book. (The last book she recommended was Yours Sincerely, Giraffe, which I also love). Free Kid to Good Home is in its 31st edition in Japan, so children love it too. It is the sort of book that makes me smile when I even think about it.
—Julia
Gotcha! by Clotilde Perrin, released late 2022
 The imagination of Clotilde Perrin produces extraordinary things. We loved the samples and videos of Clotilde's new lift-the-flap book Ha!, just released in France, and tore into the parcel when the French edition arrived in the office last week. This large-format, sumptuous, detailed sibling for Inside the Villains is being planned by the French publisher now.
The new book is a hide-and-seek chase through three famous fairy tale houses. There are cutaway houses, where you can see all the rooms and secret spaces; there are cupboards, cubbyholes, doors and lids to open; a library of fairy tales with covers to lift; and a gorgeous little child in a onesie, who's read enough stories to know they don't need to be afraid of stinky monsters. This monstrously funny hide-and-seek lift-the-flap treasure is now cohabiting in my imagination with this year's release from Clotilde: the funny and philosophical Inside the Suitcase.
—Rachel