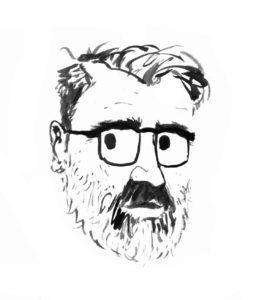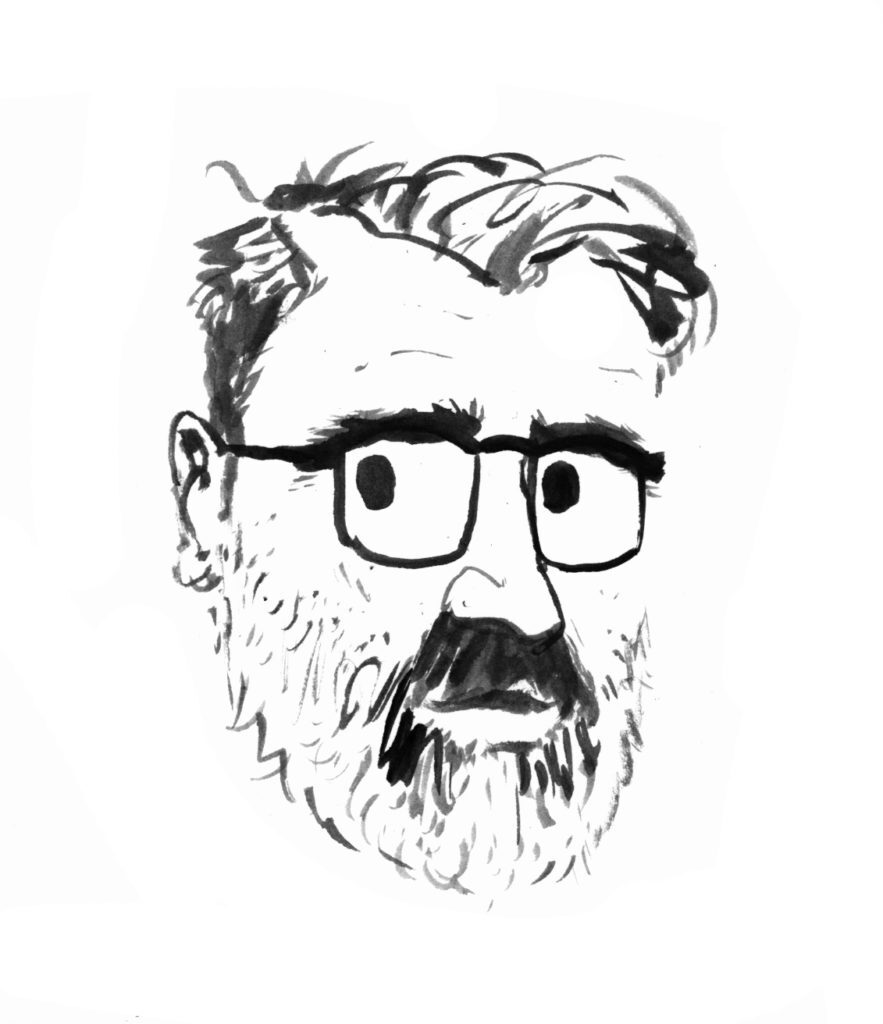 Leo Timmers' new book, Monkey on the Run, has all the characteristics of his picture books. As an illustrator, Leo asks the reader to look—then look again, and again. He uses collisions, movement, problem-solving, colour and humour in his plot. Here he talks about how Monkey on the Run developed as a story, even demanding new technique.
---
I often say my books may have cars in them but they are not about cars. Bang is about bumping into each other and therefore meeting each other. Gus's Garage is about using your imagination to solve problems (and feeling out of place). Cars are just "vehicles" to convey these ideas.
Journeys (with or without cars) are a perfect way to play with these concepts. When you go on a journey, when you move, anything can happen.
I think children enjoy the surprise and suspense of my books. My goal is to surprise, and to make children laugh, to open up their imagination by combining visual ideas in a way that looks natural and surprising at the same time.
The construction of Monkey on the Run took a long time. My original plan was a sort of encyclopaedia with all kinds of cars and funny, imaginative pictures. But my narrative instincts pushed me in another direction.
I began to tell a visual story alongside these images of classic cars. The connections between each spread sparked new ideas for cars and animals. I kept shifting the vehicles around to see where they would fit and add to the story.
But still there was something missing. I needed the book to feel like one story and a character that children could relate to. I had the idea of the monkey father and son exploring this asphalt jungle; I'd found my guide who could tie it all together.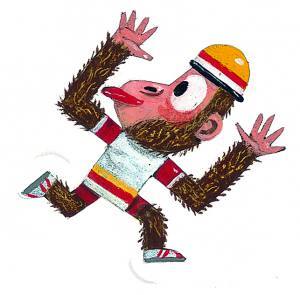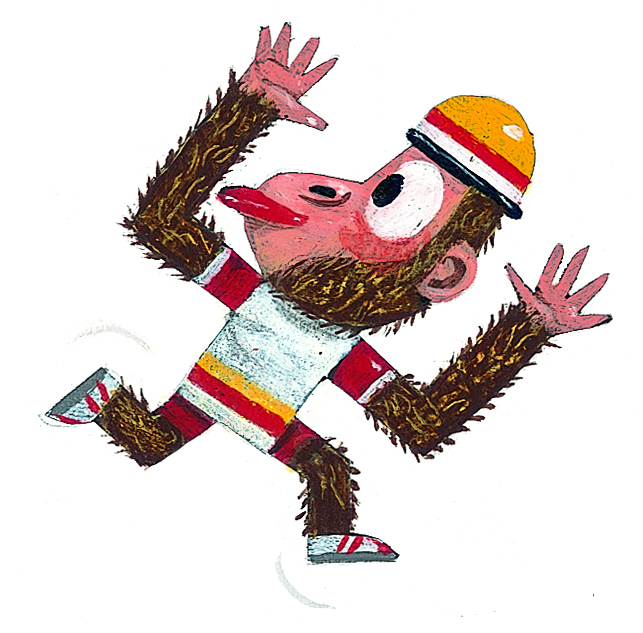 I gave this little monkey his own story—and so had to redo all my neatly constructed spreads! What began as a simple book with a lot of cars became a complex story, a tale, about playing, looking, discovering and imagination.
Like the little monkey, life started for me when school was done. Finally I could go home and play and draw! Here the monkey starts exploring, running and jumping the minute he leaves school. This busy, dangerous world won't stop him. He adapts and finds wonder and surprise in it. And at the end, he comes to a haven of nature and stillness; a retreat from the hectic world where playing in the trees is still possible.
As for the vehicles themselves, I particularly like the bicycle–mudbath–cinema because it combines so many ideas: turning the peddles while turning the film reel, a light that is also the projector, the pig children watching Titanic in 3D projected onto a sail boat. I also love the steamroller–ironing machine. This started as a small idea that grew with every new version until it filled up the double page.
"I like to exploit and stretch an idea until it reaches breaking point."
As for the artwork, I changed my process to make this book. Because every page is so wildly different, I wanted to create a coherent look, so I limited myself to about ten colours. While my previous books are painted with a brush, in this one I used scotch tape and a knife to cut out the shapes of the cars. Within this confined shape, I was then free to spatter, drip paint and create textures and imperfections.
I am more and more fascinated by the way paint can be used. I try to be more loose and spontaneous, while keeping the shapes and colours simple. All these shapes are the result of endless sketching, shaping and stylising until everything fits seamlessly.
---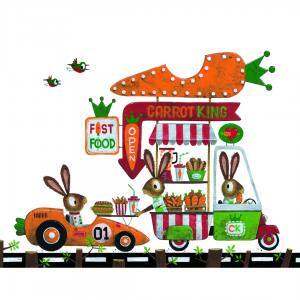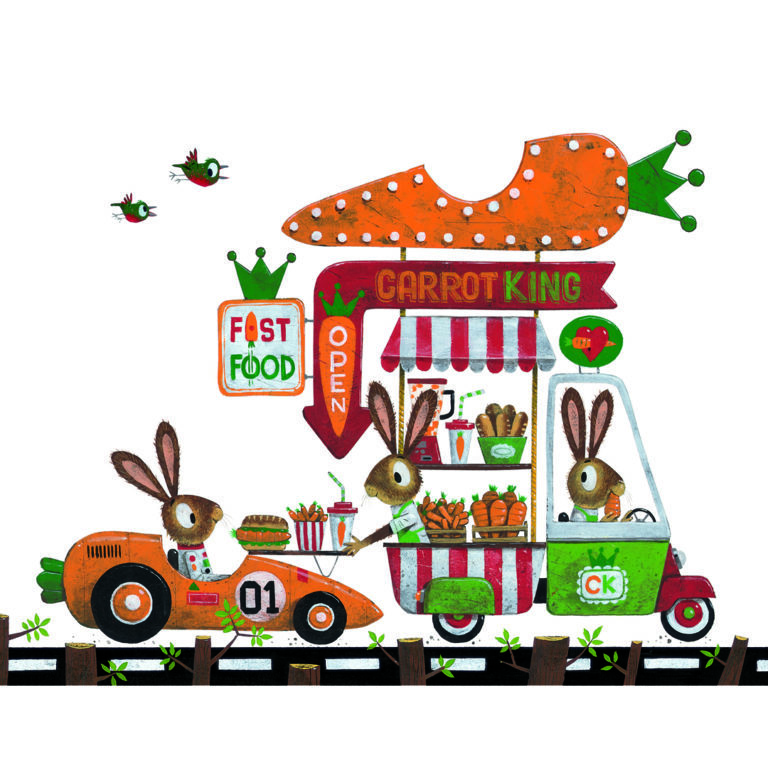 I also enjoy playing with the relationship between text and image. I love many contemporary illustrators, but illustration in itself doesn't interest me much. A pretty picture doesn't make a great book. Picture books are visual stories. All narrative information is in the image; text may not even be necessary. Composition, colour, simplicity, rhythm … these all help to tell a story.
The text enters into a relationship with the image. This can be like a song, where the lyrics work with the music and the melody. The interaction creates a new level of meaning. Text can contradict, supplement, undermine, and vice versa. There are so many options!
I have tried to have the text and images working together in different ways in my picture books: speech bubbles in Franky, one word with onomatopoeia in Bang, rhyme in Gus's Garage, one recurring question in Who's Driving?, no text at all in Monkey on the Run.
Creating picture books is the most beautiful profession in the world! I recently noticed that almost all of my favourite books were made by writer/illustrators. Is it through the unity of form and content, text and drawing that their books work so powerfully? One voice? I don't know, but I do know that these books work for children and therefore also for adults. I believe adults are also children, but with a diploma and a job!