A truly special picture book.
Zou and the Box of Kisses
An endearing and reassuring story about Zou's first night away from his parents.
Translated by Linda Burgess
---

Description

Zou is spending his first night away from home. He knows he will miss all his daily kisses: morning kisses, bedtime kisses, no-reason-at-all kisses.

He needn't worry. Mum and Dad have a solution – one that works surprisingly well on the train.

---

Book Details

Country of Origin
France
Reader Age
2-5 year
Book Size
23 × 28.5 cm
23 × 28.5 cm
ISBN
ZouandtheBoxofKisses
9781877467738

---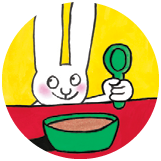 Subscribe to our newsletter/s
Hear from us about new books, guest recommendations, behind-the-scenes and competitions.