Warm and realistic; this really is how young people feel and act.
When I Am Happiest
A warm and heartfelt chapter book about Dani's love for her dad and her friendship with Ella. It's a story about sorrow and joy—and how life really is.
Written by Rose Lagercrantz and illustrated by Eva Eriksson
Translated by Julia Marshall
Available as an audiobook and an ebook wherever you buy your audiobooks and ebooks
---

Description

When I am Happiest is a warm and heartfelt book.

It's the second-to-last day of school and Dani's so happy she could write a book about it! In fact, that's exactly what she's done, although it's not quite finished yet. Now the book is in her backpack with all the other things she has to take home before the summer break. But then Dani gets some bad news. How will she ever be happy again? Sometimes a good friend is all you need to make your heart start laughing.

A stand-alone follow-up to the acclaimed and beloved chapter books My Happy Life and My Heart Is Laughing.

The third book in the My Happy Life series

---

Book Details

Country of Origin
Sweden
Reader Age
6-8 year
Book Size
21 × 14.8 cm
21 × 14.8 cm
ISBN
WhenIAmHappiest
9781927271896

---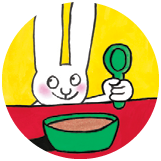 Subscribe to our newsletter/s
Hear from us about new books, guest recommendations, behind-the-scenes and competitions.