A lovely wee package, with perfectly-pitched allegory, featuring some beautiful friendships.
Travels of an Extraordinary Hamster
Hamster is determined to visit his cousins on the moon. He knows they must be eager to meet him. But his friends decide to go to the North Pole instead.
---

Description

Travels of an Extraordinary Hamster  is a  funny full-colour early chapter book told entirely in pictures and speech bubbles. Full of quirks, humour and ideas to discuss.

Hamster lives in the clearing among his friends Mole, Snail, Hedgehog, and Rabbit. They are very accepting of Hamster, who is unapologetically selfish but somehow endearing.

---

Book Details

Country of Origin
France
Reader Age
6-8 year, 8-12 year
Book Size
24 × 15 cm
24 × 15 cm
ISBN
TravelsofanExtraordinaryHamster
9781927271834

---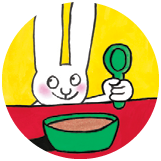 Subscribe to our newsletter/s
Hear from us about new books, guest recommendations, behind-the-scenes and competitions.