The beauty and magic of these books is that, while they are full of sweetness, they embrace reality.
See You When I See You
A stand-alone follow-up to the acclaimed and beloved chapter books that began with New York Times Notable Book My Happy Life. Written by Rose Lagercrantz and illustrated by Eva Eriksson
Translated by Julia Marshall
Available as an ebook wherever you buy your ebooks
---

Description

Dani is on a school trip to the zoo, and the teacher tells the children how to stay safe and not get lost. But Dani gets separated from the others.

Suddenly another class is rushing up the path—and at the back of the noisy crowd is someone she recognizes: Ella! The good friends are so happy to be together again and Ella wants to play.

What should Dani do? Follow her best friend in the whole world or do as the teacher said? The first, of course!

The fifth in the My Happy Life series

---

Book Details

Country of Origin
Sweden
Reader Age
5-7 year, 6-8 year
Book Size
N/A
21 × 14.8 cm
ISBN
SeeYouWhenISeeYou
9781776571307

---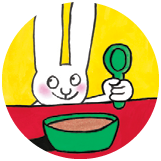 Subscribe to our newsletter/s
Hear from us about new books, guest recommendations, behind-the-scenes and competitions.