Sweet and strong in equal measure, and a little treasure to look at
The Stone Giant
The Stone Giant is a read-aloud storybook about cunning, courage and survival in which a girl sets out to save her father from the giant who turns everyone she meets to stone.
Written by Anna Höglund
Translated by Julia Marshall
Available as an ebook wherever you buy your ebooks
---

Description

When her father leaves to save the people from a giant who turns them to stone with his gaze, the child in the red dress is left alone.
Many days and many nights go by. Every evening the girl says good night to herself in her mirror. When the last light burns down, the girl takes her mirror and a knife and sets out to find her father.
"I will save my father from the giant," she says.
The Stone Giant is a contemporary and timeless fairytale that tells of a child who succeeds where adults cannot.
Based on a classic Swedish fairytale by Elsa Beskow, often called the Beatrix Potter of Scandinavia whose books have been read by Swedish children for over 100 years.

---

Book Details

Country of Origin
Sweden
Reader Age
5-7 year, 6-8 year
Book Size
N/A
20 × 16 cm
ISBN
TheStoneGiant
9781776572731

---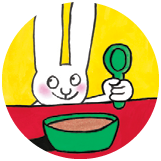 Subscribe to our newsletter/s
Hear from us about new books, guest recommendations, behind-the-scenes and competitions.