I whizzed through the book, I drizzled through the drawings, I sizzled and word swam and got hooked.
The Longest Breakfast
A rambunctious book for kids about the best meal of the day.
Written by Jenny Bornholdt and illustrated by Sarah Wilkins
---

Description

The baby wants breakfast so Malcolm gets out of bed to get started. Then in comes Toby. And Una and Toto, then Alice—they're hungry too. And Conrad from next door and his sister Ruby! Everyone has a request for breakfast. But who is taking notice of the baby?

A fun family picture book recommended for ages 3 and up.

---

Book Details

Country of Origin
New Zealand
Reader Age
2-5 year, 5-7 year
Book Size
N/A
21 × 25 cm
ISBN
LongestBreakfast
9781776571680

---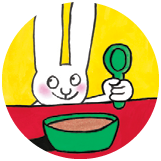 Subscribe to our newsletter/s
Hear from us about new books, guest recommendations, behind-the-scenes and competitions.