Such elegance in a children's book is a rare and special treat
Pom and Pim
A wonderfully simple story told with few words, unique illustrations, humour and heart.
---

Description

Pom and Pim are going out.
It's warm. The sun is shining.
What luck!

Pom and Pim's day is full of ups and downs, and luck both good and bad. Is eating a huge icecream truly a good idea? Is it really bad luck that it's raining? Or is it good luck…?

---

Book Details

Country of Origin
Sweden
Reader Age
2-5 year
Book Size
21.8 × 19.5 cm
21.8 × 19.5 cm
21.8 × 19.5 cm
ISBN
PomandPim
9781877579660
PomandPim

---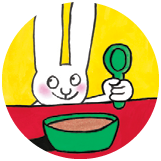 Subscribe to our newsletter/s
Hear from us about new books, guest recommendations, behind-the-scenes and competitions.