Small and perfectly formed.
Perfect Presents!
A satisfied lizard has found the perfect present for a hard-to-please friend in this happy comic gift book about gifts, ideal as a gift in its own right.
You're a very hard person to buy for, but have I got the perfect thing for you!
In this little hardback gift comic, a lizard is delighted with their whole bag of perfect presents for a slightly unusual friend. At first things don't seem to be going well… The friend wolfs down each one and reaches out greedily for the gecko itself! Until the story finishes with a big kiss and a cup of peppermint tea: "Perfect presents," says the friend. "Just to my taste!"
This funny comic with a twist is a fun read for children of all ages and a perfect present for anyone, even those who are hard to buy for.
Written and illustrated by Anke Kuhl, translated by Melody Shaw.
---

Book Details

Country of Origin
Germany
Reader Age
2-5 year, 5-7 year
Book Size
14.5 × 14.5 cm
14.5 × 14.5 cm
14.5 × 14.5 cm
ISBN
PerfectPresents
PerfectPresents
9781776574995

---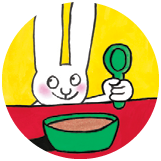 Subscribe to our newsletter/s
Hear from us about new books, guest recommendations, behind-the-scenes and competitions.