I love a book that is interactive and encourages my children to think
Ko Wai e Huna ana?
A te reo Māori edition of the best-selling Who's Hiding?
Ko Wai e Huna ana?
Who's hiding? Who's crying? Who's backwards? Look carefully! Is it dog, tiger, hippo, zebra, bear, reindeer, kangaroo, lion, rabbit, giraffe, monkey, bull, rhino, pig, sheep, hen, elephant, or cat?
Can you tell? Look again…18 fun-loving animals can be found on each question-posing page, sending readers into an up-close, attention-to-detail discovery.
Written by Satoru Onishi, translated by Paora Tibble
Cover image shown is from the board book edition.
---

Book Details

Country of Origin
Japan
Reader Age
2-5 year
Book Size
23.8 × 20.7 cm
23.8 × 20.7 cm
23.8 × 20.7 cm
ISBN
KoWaiEHunaAnaWho8217sHidingTeReoMaoriedition
9781776574575
9781927271476

---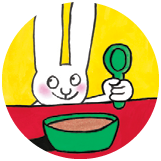 Subscribe to our newsletter/s
Hear from us about new books, guest recommendations, behind-the-scenes and competitions.