Blake's instantly recognisable bold and expressive illustrations will delight young readers
Nits
Simon discovers girls—and nits—in the new story in this bestselling series.
Written by Stephanie Blake
Translated by Linda Burgess
---

Description

Simon feels a new emotion stirring—he thinks he is in love with Lou! Sadly, Lou loves Mamadou… One day Lou comes to school with nits. She's suddenly not so popular any more. Except with Simon. He doesn't care
about nits!

Lou gives Simon a big hug for being so kind—and some small visitors too…

---

Book Details

Country of Origin
France
Reader Age
2-5 year
Book Size
N/A
27 × 21 cm
N/A
ISBN
Nits
9781776572243
9781776572236

---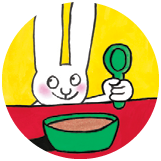 Subscribe to our newsletter/s
Hear from us about new books, guest recommendations, behind-the-scenes and competitions.