I can just see Dads and babies having a ball as they find silly and creative ways of "popping" like the flower buds in the story.
Look, a Butterfly!
A light-as-a-feather book for babies to share with the very young, told in shapes and colours
Written by Yasunari Murakami
Translated by Cathy Hirano
---

Description

Look! A white butterfly! Flit and flutter through the blue sky. The butterfly comes to rest on a flower, and—pop—the flower opens.

Pop! Pop! Pop! All the flowers open: red, blue yellow, pink, orange…
Flutter flit through the sky. The butterfly lands on a cat, and …
meeeoow! Let's play!

Look, a Butterfly! is a simple, appealing board book for babies told in shapes
and colours.

---

Book Details

Country of Origin
Japan
Reader Age
0-2 year, 2-5 year
Book Size
17 × 17 cm
17 × 17 × 4 cm
ISBN
LookaButterfly
9781776571901

---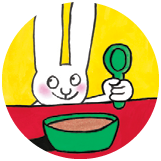 Subscribe to our newsletter/s
Hear from us about new books, guest recommendations, behind-the-scenes and competitions.