This low-key, whimsical exploration of imagination repays repeat readings
If I Was a Banana
This boy's-eye-view of the everyday brings alive all the wonder and oddity of the world inside our own heads.
Simple, funny children's book for ages 3-5
Written by Alexandra Tylee and illustrated by Kieran Rynhart
Available as an ebook wherever you buy your ebooks
---

Description

If I Was a Banana  beautifully captures the magic that a child can find in common objects and day-to-day encounters—bananas, clouds, toys, breakfast, stars.

Each of these simple things sparks a new train of thought, and the result is a gorgeous mix of the poetic and the prosaic which will touch the child—and the heart—in all of us.

A book for kids ages 3-5

---

Book Details

Country of Origin
New Zealand
Reader Age
2-5 year, 5-7 year
Book Size
26 × 21 cm
26 × 21 cm
26 × 21 cm
ISBN
IfIWasaBanana
9781776570331
9781776570348

---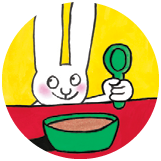 Subscribe to our newsletter/s
Hear from us about new books, guest recommendations, behind-the-scenes and competitions.