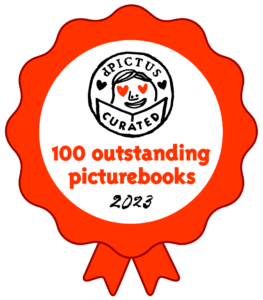 Look – A Tummy Time Book by Gavin Bishop has been selected for the dPictus 100 Outstanding Picturebooks 2023.
This accolade is awarded by a group of guest curators who are international picturebook and illustration specialists from all over the world, selecting from books that were published in many different languages in many different countries.
Look is a concertina board book of big bright faces to place around the baby on the floor at tummy time—family faces on one side and toys on the other—by multi-awardwinning author/illustrator Gavin Bishop. It will be available from June 2023 in the United Kingdom, and from August 2023 in Australia, New Zealand and the United States.
Babies will love tummy time or learning to sit up surrounded by this beautiful two metre fold-out, wordless board book illustrating faces and toys in bright colors.
This safe and sturdy concertina book is a perfect new baby or baby shower gift, with compelling illustrations of the things babies love. Friendly faces from the whole family combine with familiar toys and objects, drawn in bold lines with a striking minimalist color palette.
Choose your cover and which direction to read this fully reversible book.