Mihi is Gavin Bishop's beautiful new baby book that introduces ideas of me and my place in the world in the shape of a simple mihi or pepeha.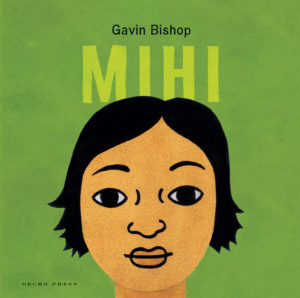 A mihi, mihimihi, pepeha is a way of introducing yourself and making connections to other people and places
This is Gavin Bishop's mihi:
Ko Mātaatua tōku waka
Ko Pūtauaki tōku maunga
Ko Rangitaiki tōku awa
Ko Pukeko tōku marae
Ko Ngāti Awa tōku iwi
Ko Bishop tōku whānau
Ko Hinepau tōku māmā
Ko Stanley Alan tōku pāpā
Ko Gavin Bishop ahau
Tēnei
And here is a video of Gavin reading his mihi as he uses the book:
---
Mihi introduces the idea of a mihi or pepeha and you can expand and add your own story as you share and read it aloud.
There are also lots of useful resources online to help people create their own mihi or pepeha:
www.tetaurawhiri.govt.nz/en/learn/tikanga/mihimihi/
www.otago.ac.nz/maori/world/te-reo-maori/mihi-introductions
Before Gavin was able to create his mihi, he first needed to learn his family history.
Here is the story of how he discovered his whakapapa.
---
Mihi is available now from wherever you buy or consume your books and on our website.
Want to hear more from Gecko Press? Every month we send out a newsletter with all of our latest blog articles, activity sheets, and sometimes a competition too! Sign up to our mailing list here.