BY GAVIN BISHOP
When I was a kid in Invercargill in the 1950s, Sunday night was the time for family stories. Auntie Kate and Pups, Mum's oldest sister and her husband would come for tea. The food – cold mutton, salad and freshly made girdle scones, was the same week after week and so were the stories. Most of the tales were about family members and the funny or terrible things they had done or said.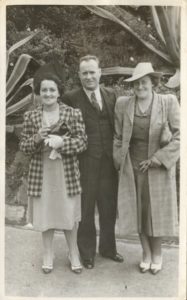 Doris Bishop (left) with family at the races
Some of the stories were about Mum's father, my grandad, Benjamin MacKay, who had died 10 years before I was born. He was Māori and from "up North". Not much more was known about him and no one knew anything about his 12 brothers and sisters. Who his parents were, was a mystery. Where he was born and bought up, again no one knew and Mum and Auntie Kate did not seem to be very interested.
Grandad had been born in 1843, they knew that much. And he had been a shearer. He came down to Southland as a young man but didn't marry Mamma, my grandmother, until he was 40. He spoke Māori but did not teach any of his 5 kids to do so. (In those days children were strapped for speaking Māori at school.) The one thing he did do though, without any explanation, was to give his youngest child, my mother, "all the names". Her first name was a Pākehā one, Doris, but the other two were Māori – Irihāpeti and Hinepau.
Interest in Grandad's background, or lack of it, remained as it has always been until 1990 when my brother and I decided it was time to see what we could find out about our family "up North". So we took a trip. It only lasted a week but it changed our lives.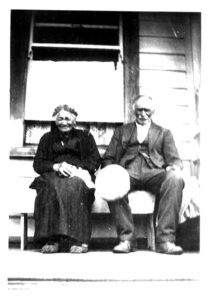 Benjamin MacKay and his sister Catherine
In Whakatane, we met Ena Chamberlain whose real name was Hinepau. She told us that the Hinepau she had been named after was Ngāti Awa and had married into a Tainui family. Hinepau was her great, great grandmother and she was also mine.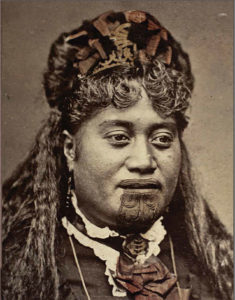 Irihāpeti Hahau
The following day we caught a bus to Ngaruawahia and attended the Kīngitanga celebrations that were taking place beside the Waikato river. People there said that Hinepau had been part of the Kīngitanga movement and had had several children, the oldest of whom was Irihāpeti. Irihāpeti had married a Scotsman, John Horton MacKay and had 12 children, one of whom was my grandfather. Because of their close connection to the Māori King, the MacKay tartan was adopted for use on special Kīngitanga occasions, and still is today.
Before flying back home, we had half a day in Auckland. That was just enough time for a quick trip to the Anglican Diocesan Office in Parnell to see the handwritten records of baptisms in the Waikato in the 1860s. On one page was my grandfather's name along with the names of all of his siblings. They had been given a "job lot" on the same day at Te Kohanga, near Port Waikato by Bishop Selwyn.
In 1994 my brother and I attended a family reunion at Port Waikato to meet other descendants of Irihāpeti Hahau, our great grandmother. Someone reckoned that if all her descendants were able to turn up, 6000 people would arrive.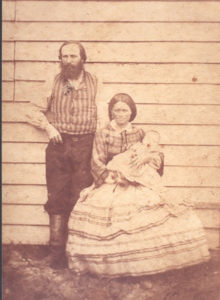 William Carran and Catherine MacKay
Finding this enormous whānau came about because of what my grandfather had taken care to do in 1918. When he gave his youngest daughter "all the names" he also gave the key to her whakapapa.
---
Mihi is Gavin Bishop's beautiful new baby book that introduces ideas of me and my place in the world in the shape of a simple mihi or pepeha.
Discovering his family history, his ancestors, and his enormous whānau, Gavin was able to create his mihi.
Here is a video of Gavin's mihi and a sneak peek at this beautiful book:
---
Mihi is available now from wherever you buy or consume your books and on our website.
Find out more about how to use Mihi here.
Want to hear more from Gecko Press? Every month we send out a newsletter with all of our latest blog articles, activity sheets, and sometimes a competition too! Sign up to our mailing list here.