letter from Katharina von der Gathen on her new book, do animals fall in love?
Dear reader,
Children brought me to this book—as they did my previous book, Tell Me. In my sexual education classes in primary schools, I found that children repeatedly asked me, not only about human ways of loving, but also about animals: "Can animals be gay?", "How do snakes have sex?", "Can fish fall in love?", "Do animals get their period?"
I had to do some thorough research to find the answers! For me, too, animal seduction techniques, their sexuality and reproductive strategies were a new world that made me curious.
The parallels with human diversity and the ways animals express their sexuality and behave sexually are astonishing. There are infinite variations: slipper shells that change their sex, male giant cuttlefish that dress up as female, whiptail lizards that have offspring without male involvement, pregnant seahorse fathers, penguin solo dads and much more. Children who read my new book, Do Animals Fall in Love? can discover that the most wide-ranging forms of life and love are a natural part of the diverse life on Earth.
Children identify strongly with animals. Perhaps they feel that they too live like this, in a kind of parallel universe to the adult world and so feel connected to animals in a special way. Through finding the answers to their questions like "How do animals actually have sex?", children can approach the topic of sexuality, which is so fascinating and exciting for them, in a carefree way.
Homosexuality, cross-dressing, lifelong relationships, adoption, deception, couples who share the workload, swapping partners, single parents, large families—all this and much more is seen in the animal kingdom. And learning about it helps us understand that our human species is only a small part of the infinitely colourful diversity on Earth.
Compared to animals, we humans are perhaps almost a little unimaginative.
Kind regards,

---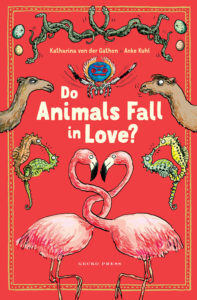 Do Animals Fall in Love? is a fully illustrated compendium of astonishing facts about animal reproduction—the birds and the bees, literally.
Starred review from Kirkus: "What she [von der Gathen] does do is to demonstrate the wonder of species reproduction as well as her respect for her audience with frankness and good humor. They will find it irresistible in tone and content."
It will be available worldwide in English from 1st May 2021 wherever you buy or consume your books and on our website.
---
Want to hear more from Gecko Press? Every month we send out a newsletter with all of our latest blog articles, activity sheets, and sometimes a competition too! Sign up to our mailing list here.