Simple, minimal written text, bold illustrations, food for thought and a brilliant sense of humour.
You Can Do It, Bert!
The perfect gift for anyone embarking on a new adventure. You can do it, Bert!
Translated by Catherine Chidgey
---

Description

You can do it, Bert!

Bert has been preparing for this for a long time. He is ready. Mentally and physically. But before he takes the plunge, he might need a bit of encouragement from his friends.

---

Book Details

Country of Origin
Germany
Reader Age
2-5 year
Book Size
24.5 × 25 cm
24.5 × 25 cm
24.5 × 25 cm
ISBN
YouCanDoItBert
9781927271438
9781927271032

---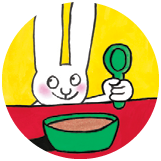 Subscribe to our newsletter/s
Hear from us about new books, guest recommendations, behind-the-scenes and competitions.