Gecko Press has delivered another sumptuous treasure that is as magical to read as it is to hold.
What Dog Knows
A fresh and funny mix of story and non-fiction for inquisitive readers that covers the touchstones of childhood obsession: robots, knights, dinosaurs, rockets and more.
---

Description

When Wolf finds a fact-filled book in the library, he thinks he will at last outsmart his clever friend, Dog.

The two friends spar as they learn all about mummies and skeletons; robots, knights, and pirates; dinosaurs and dragons; rockets and the moon. As always with Wolf and Dog, there is just as much to learn about getting along together; about friends and enemies, food and fleas.

---

Book Details

Country of Origin
The Netherlands
Reader Age
6-8 year
Book Size
21 × 14.8 cm
21 × 14.8 cm
ISBN
WhatDogKnows
9781776570379

---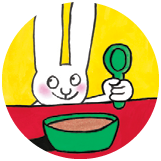 Subscribe to our newsletter/s
Hear from us about new books, guest recommendations, behind-the-scenes and competitions.