Yes indeed I highly recommend this PEA FILLED book with its divine illustrations
Valdemar's Peas
"Peas? No way! Valdemar may be a little wolf, but he knows what he wants. "
Valdemar's Peas is a cheeky, fresh and fun children's book  that the whole family will enjoy.
Written by Maria Jönsson
Translated by Julia Marshall
Valdemar's Peas Preview
---

Description

A warm and funny children's book with a cheeky big brother at the centre of a very familiar situation. Best for ages 3-5

---

Book Details

Country of Origin
Sweden
Reader Age
2-5 year, 5-7 year
Book Size
N/A
N/A
23 × 19 cm
ISBN
ValdemarsPeas
9781776571963
9781776571956

---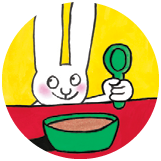 Subscribe to our newsletter/s
Hear from us about new books, guest recommendations, behind-the-scenes and competitions.