A great adventure ... This delightful book will be an enduring favourite.
The Lazy Friend
The Lazy Friend is a wordless picture book for fans of The Chicken Thief.
The sloth lives in the jungle with some excellent friends who care about him very much. When the sloth's tree is cut down and he is taken away on a truck, his friends must do everything they can to get him home safely. He leads them on an enormous adventure, even if he is asleep the whole time…
This picture book explores themes of friendship, loyalty and environmentalism. It is great for improving visual literacy. Children will love telling the story of what is happening in the pictures.
Written and illustrated by Ronan Badel.
Available as an ebook wherever you buy your ebooks
---

Book Details

Country of Origin
France
Reader Age
2-5 year, 5-7 year
Book Size
15 × 26 cm
15 × 26 cm
ISBN
LazyFriend
9781927271414

---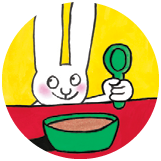 Subscribe to our newsletter/s
Hear from us about new books, guest recommendations, behind-the-scenes and competitions.