Unexpected giggles await with every page turn.
My Pictures after the Storm
A funky little children's book that takes the "before and after" concept to unexpected places.
Written by Eric Veillé
Translated by Daniel Hahn
---

Description

A gust of wind, an elephant, a dive bomb, a spell: this funky "before and after" book will have you chuckling!
What happens to a lion after the storm? His mane is swept into a dishevelled mess. What becomes of a pear after an elephant passes by? Pear jam! A frog after a spell? A prince. And the room after a battle? A big mess!

Comical illustrations, witty wordplay, and new rhymes and jokes to find with each re-reading.

A funny children's book for ages 2 and up.

---

Book Details

Country of Origin
France
Reader Age
0-2 year, 2-5 year
Book Size
N/A
20.3 × 19.5 cm
ISBN
AftertheStorm
9781776571048

---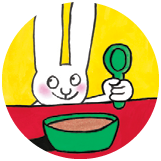 Subscribe to our newsletter/s
Hear from us about new books, guest recommendations, behind-the-scenes and competitions.